How was your Super Bowl Sunday? Did you celebrate? Or did you sulk because your team didn't go. Sorry Jase. Next year is the year of the Bills 🙂
For those of you paying attention, last week I discussed how to lose fat OR gain muscle. In case you fell asleep and need a refresher, be sure to give this a read:
https://coachingwithabby.com/blog/can-you-lose-fat-gain-muscle-simultaneously/
So you're trying to lose fat… but your diet isn't working?!
What gives?
Send help (SOS)!
You feel like you're doing all the right things… working out, cutting calories and creating a deficit BUT not seeing results.
Here are some of the most common issues/mistakes I see clients make…
You jumped the gun…
Dieting too long/too often: You shouldn't be

dieting >12-16 weeks/time and not > than 1-2x/year

You didn't spend AT LEAST 3-6 months at maintenance calories prior to dropping your calories.

Maintenance calories usually > 2,000+ for

active people.
You didn't earn the right to diet
Thyroid, sex hormones, menstrual cycle, gut health weren't in a good place prior to cutting calories.

You're stressed to the MAX! High stress can prevent successful fat loss

You aren't getting quality/quantity of sleep. Poor sleep doesn't promote recovery/fat loss.
You don't know HOW many calories you actually need vs intake
You're not weighing/measuring/tracking

macros and don't know if you're creating a calorie deficit or not (duh)!

You're forgetting to log things like cooking oils, salad dressing, condiments, etc.

You aren't in a calorie deficit.

You dropped calories too low too fast.
Too much/Too little activity
Not getting enough movement outside of your workouts. Should average ~8k/steps/day.

Exercising too much so the body can't recover and adapt.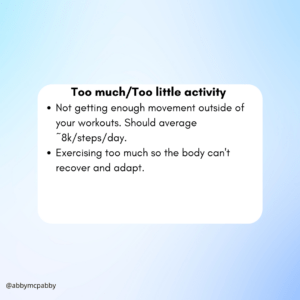 Are you struggling to lose fat?
Coach Brianna and I want to help you lose fat AND feel DAMN good!
In our 1:1 coaching programs we help clients personalize what + how much to eat for their goals. We also address any underlying issues that might impact results (stress, sleep, thyroid, blood sugars, sex hormones, etc).
Want a customized nutrition plan to help you lose fat?
Get started with a FREE Discovery Call to see if you would be a good fit for our team.