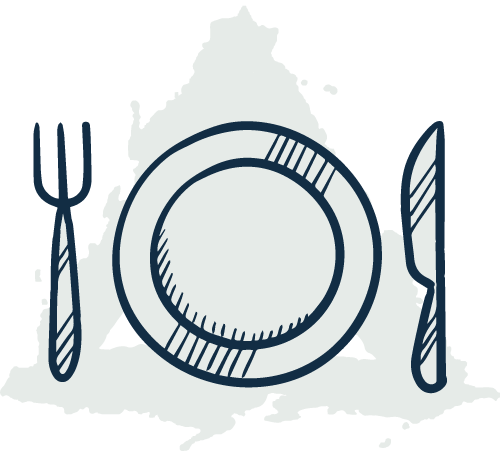 Abby Nutrition & Fitness Coaching
Every human body is different. Yet, even with that knowledge, many people try to approach nutrition with a one-size-fits-all plan. Rather than continuing to follow the age old mantra of 'eat less and exercise more', or trying to stick with a nutrition program that treats everyone the same, how about trying a different approach?
When you choose nutrition coaching with Abby, you'll get:
A personalized nutrition plan built around YOUR specific needs, goals, and lifestyle.

An accountability partner for weekly check-ins and continuous evaluation of what's working and what isn't.

Access to community support from people who are on a similar journey and facing the same or similar struggles.

An awareness of what your body needs and how to fuel it with nutrition to look and feel your best.
What can nutrition coaching do for you?
Personalized nutrition coaching can take your results to a whole new level and help you achieve your body composition goals. And, because we factor in your unique lifestyle, you'll be able to enjoy sustainable results that will serve you for years to come. Welcome to the family and let's get started!
Abby's Approach to Nutrition Coaching

Customized Plans to Support Your Lifestyle
Nutrition and fitness plans are different for every body. For sustainable results, they should also be different for every lifestyle. I help you create a personalized nutrition and fitness plan that fits your lifestyle and unique health and fitness goals. Then, we utilize tracking macros to help you focus on food quantity and quality.

Awareness
The first step in solving any problem is recognizing that one exists. I help you become aware of habits that haven't served you well (i.e. chronic dieting, under-eating). Then, we work together with a Reverse Diet to improve metabolism, overall health, sex hormones, and thyroid functioning to optimize your goals. Many clients work with me for 6-12 months or more.

Accountability & Consistent Access
Accountability to someone else and consistent access to a coach are key factors to achieving your health and fitness goals. My coaching program gives you weekly accountability check-ins and 24/7 access to me for education and answering questions. I'll also closely monitor your biofeedback markers like energy, stress, sleep, mood, hunger, and libido.
Community Support
You'll have access to our private fitness and nutrition group on Facebook - the perfect place to get support and encouragement from others who are on a similar journey! You never know when someone else's success and failures will help you win your own battles, or when sharing your experience could be life changing for another.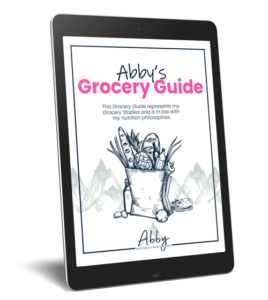 FREE Grocery Guide
Need help figuring out what items to get at your next trip to the store? This guide gives you the scoop on all of my food staples in line with my nutrition philosophies.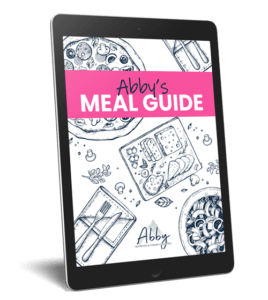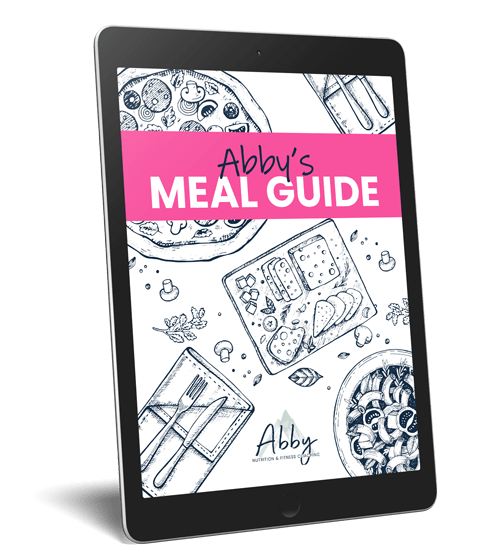 FREE Meal Guide
Do you have trouble coming up with healthy meal ideas and planning your meals for the week? This guide makes it easy with meal suggestions for each time of the day!
Abby's FREE Guidebook
Want to lose fat, gain muscle, and improve body composition? This guide will help you look + feel your best! Learn how to calculate your diet for maintenance, cut or bulk!
Schedule a Discovery Call to discuss your goals + my programs. Let's see if you are a good fit!