Look Good Feel Good (LFG)
Virtual Strength Training Program
We were tired of not having a virtual program that people could follow that is tried, true, and tested by 2 personal trainers who've felt overwhelmed with not knowing what to do in the gym and the frustration of working our butts off without getting results.
We wanted to create something where you can start seeing the results you desire in your physique without having to live at the gym. Plus, we believe that it's cool to be a badass at the gym and set PRs, but we want you to set PRs (and have a life) outside of the gym, too. In fact, we both work smart in the gym so we can hike + backpack up mountains with our dog, Molly.
It's time to look good, feel good, AND finally have a customized workout program that is affordable.
— Coach Abby + Coach Jason (Abby's husband)
What does the Strength Training Program look like?
Dynamic Warmups + Priming Exercises:
Ensuring your body is pumped and ready to go for each workout.
Progressive Workouts:
Change of training volume, weight, Rate of Perceived Exertion, rep tempo, etc. to keep you moving forward and breaking plateaus in the gym.
3 Phases of Training:
to build a strong, well-rounded athletic physique that includes:
Full body (Push/Pull) Splits to build a solid foundation.
Hypertrophy Splits to build muscle/definition, strength and improve your metabolism.
Performance Phase designed to keep your body performing at its best.
Mobility Routines:
For optimal recovery and injury prevention. Because we know getting old is rough, but it shouldn't be a limiting factor.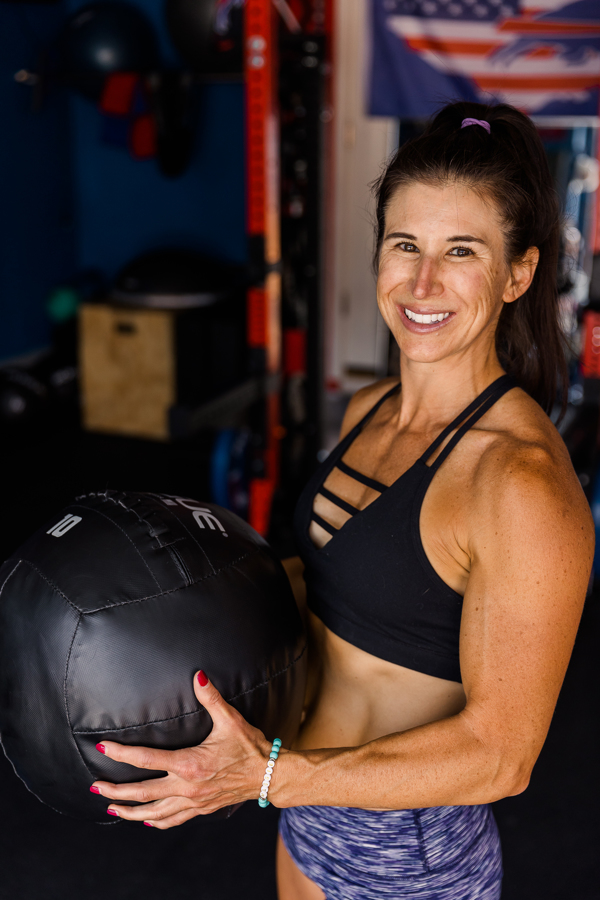 How many days per week?
3-5 days/week. Phase 1 is 3 days of strength with an additional mobility day. Phases 2 & 3 are 4 days of strength with an additional mobility day.
How long do the workouts take?
What equipment is needed?
This program utilizes barbells, DBs, KBs, cable machines, and bands. This program can be used at home or in a gym.
Can I make exercise substitutions?
You CAN substitute exercises if the equipment is not available. You can search the exercise library for alternative movements during your workout for easy subs.
Ongoing Progressive Strength Training Program
via Trainerize Fitness App.
Online Facebook Group Community
FREE Nutrition & Fitness Content
to help you acheive your goals!
This program is designed for disciplined individuals who want to LOOK GOOD + FEEL GOOD while at the same time improving their overall health, fitness, and performance.
Self-motivated to get to the gym, but looking for guidance with workouts.
Ready, Set, Let's Freaking Go!
*Personalized Fitness Programming available upon request. *
Abby's Approach to Personal Training & Nutrition

Customized Plans to Support Your Lifestyle
Nutrition and fitness plans are different for every body. For sustainable results, they should also be different for every lifestyle. I help you create a personalized nutrition and fitness plan that fits your lifestyle and unique health and fitness goals. Then, we utilize tracking macros to help you focus on food quantity and quality.

Awareness
The first step in solving any problem is recognizing that one exists. I help you become aware of habits that haven't served you well (i.e. chronic dieting, under-eating). Then, we work together with a Reverse Diet to improve metabolism, overall health, sex hormones, and thyroid functioning to optimize your goals. Many clients work with me for 6-12 months or more.

Accountability & Consistent Access
Accountability to someone else and consistent access to a coach are key factors to achieving your health and fitness goals. My coaching program gives you weekly accountability check-ins and 24/7 access to me for education and answering questions. I'll also closely monitor your biofeedback markers like energy, stress, sleep, mood, hunger, and libido.
Community Support
You'll have access to our private fitness and nutrition group on Facebook - the perfect place to get support and encouragement from others who are on a similar journey! You never know when someone else's success and failures will help you win your own battles, or when sharing your experience could be life changing for another. 
Schedule a Discovery Call to discuss your goals + my programs. Let's see if you are a good fit!