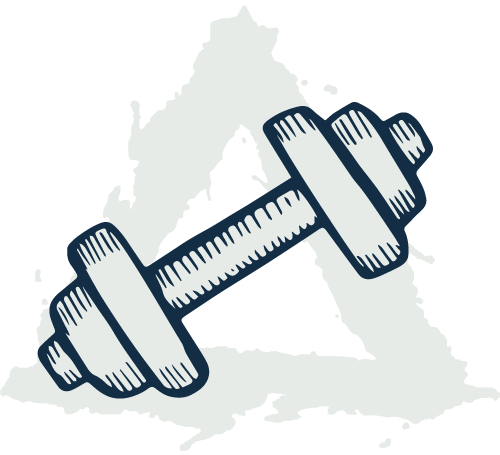 Abby Nutrition & Fitness Coaching
This is a 12-week program that is geared toward those who are just starting out on their fitness journey. Through this program, you will establish a strong foundation for achieving sustainable results and reaching your health and fitness goals.
This program features 2-3 total-body workouts per week along with guidance for activity on the days in between, such as stretching routines and step goals. Workouts will be progressed each week and also change each month to ensure you are continuously challenged.
Recommended Equipment: Bands, dumbbells, kettlebells, BOSU, physio-ball, treadmill, air bike, and rowing machine.*
*Can make modifications in order to accommodate equipment available.
Personal training & fitness coaching with Abby includes:
Workout of the Month challenge each month to test progress and results.
Monthly measurements to document results.
Accountability with access to trainer throughout program via My PT Hub.
Abby's Approach to Personal Training & Nutrition

Customized Plans to Support Your Lifestyle
Nutrition and fitness plans are different for every body. For sustainable results, they should also be different for every lifestyle. I help you create a personalized nutrition and fitness plan that fits your lifestyle and unique health and fitness goals. Then, we utilize tracking macros to help you focus on food quantity and quality.

Awareness
The first step in solving any problem is recognizing that one exists. I help you become aware of habits that haven't served you well (i.e. chronic dieting, under-eating). Then, we work together with a Reverse Diet to improve metabolism, overall health, sex hormones, and thyroid functioning to optimize your goals. Many clients work with me for 6-12 months or more.

Accountability & Consistent Access
Accountability to someone else and consistent access to a coach are key factors to achieving your health and fitness goals. My coaching program gives you weekly accountability check-ins and 24/7 access to me for education and answering questions. I'll also closely monitor your biofeedback markers like energy, stress, sleep, mood, hunger, and libido.
Community Support
You'll have access to our private fitness and nutrition group on Facebook - the perfect place to get support and encouragement from others who are on a similar journey! You never know when someone else's success and failures will help you win your own battles, or when sharing your experience could be life changing for another. 
Schedule a Discovery Call to discuss your goals + my programs. Let's see if you are a good fit!