I'm all about sharing nutrition and fitness content with you (be sure to scroll down for my recent IG posts), sprinkled in with my own personal adventures. I believe fitness is not just about being STRONG in the gym. It's about being STRONG outside of the gym too. And for me, this means being strong enough to hike and backpack up mountains with my pup, Molly, and my husband, Jase. Just another reason why I lift weights… to be able to see things in Colorado that you can't get to via car 😉
Our first backpacking adventure of 2022 was a success!
I have such a Love/Hate relationship with Backpacking 🎒 This weekend's trail in Colorado was no exception. It was rough! We had to pack 17+ miles over elevation gain, fallen trees, snowfields, rivers, waterfalls, and bugs. With a heavy backpack. And basically sleep on rocks. Oh my.
But… sharing these views (and a tent) with my Pup and Jase was worth it. Oh. And all of the hiking snacks of course (see pic below).
And…
I have to brag!
One of my biggest wins of this weekend was actually not backpacking with a 20 pound pack 17+ miles over the crazy terrain.
My win was eating the damn food.
The old me was constantly trapped in a prison of restricting food and punishing myself with exercise, obsessing about food, and often times bingeing because my body was so under-nourished. Sorry, body, for being such an a**hole to you.
Fast forward several years, I'm 100% recovered! And this weekend was a huge testiment to how I'm truly using food as fuel (and fun)! The old me created so many rules around foods I could and couldn't eat. This weekend was all about maximizing calories, carbs, and fat.
Sometimes I ate when I wasn't hungry because I knew my body still needed the energy to hike (and recover). And eating foods that I used to demonize because they have carbs/sugar (ie: gummy bears) and now realizing they are a huge source of fuel (in a cute little package). I even gulped down a Sweet Tea Lemonade drink from a gas station that had 70g sugar post-hike because hiking for 10 hours requires lots of calories + carbs to refuel and recover.
Remember: Food is fuel. And it's also culture, tradition, social, fun, and flavorful! Be sure to fuel your dreams! Whether that's climbing a mountain, hitting a PR at the gym, or improving your relationship with food + fitness.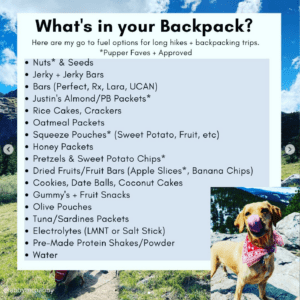 They say a picture is worth a thousand words and that most certainly holds true in these pictures. You see the highlight of the journey. The breathtaking views.
What you don't see is the struggle – the unrelenting bugs, the heaviness of the loaded backpack on our shoulders, the fallen trees blocking the trail to navigate around, the sore muscles, the snowmelt flooding the trail and waterlogged boots…
You also don't see the great conversation, the freedom and peaceful sounds of nature, truly being in the given moment without the outside noise of the world. The unmatched freedom of being in the wild surrounded by this beauty as far as the eye can see.
This is why we put ourselves through the struggle… as that is where we find the best things in life. By overcoming adversity and in the process strengthening and becoming the best version of ourselves – discovering whom we were born to be.
Adapted from Jason Rae (husband)